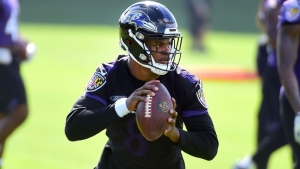 ESPN Louisville (93.9 The Ville) is excited to announce a partnership with the Baltimore Ravens that will ensure fans in Louisville don't miss a snap Lamar Jackson takes in 2019.  ESPN Louisville's 93.9 The Ville, along with the support of Liquor Barn will become the newest radio affiliate of the Baltimore Ravens this season and carry all of the Baltimore Ravens regular and postseason radio broadcasts.
"In a city without an NFL team, Lamar Jackson and the Ravens get talked about on our talk shows more than any other team," said Drew Deener, Vice President of ESPN Louisville. "So why not seize the opportunity to air all of his games, especially on a station that is an official broadcast partner of Louisville athletics.  The Ravens enthusiasm for the idea led to this quick turnaround."
"The fans in Louisville knew before we did what a special player and person Lamar Jackson is," said Kevin Byrne, Executive Vice President Public and Community Relations. "Lamar creates excitement and he's doing that in the NFL with the Ravens, a team that has already won two Super Bowls this century and plans to win more with Lamar as our quarterback. We welcome the fans in the Louisville area to Ravens football. We can't wait for the season to start."
Liquor Barn wasted no time when presented with the idea.  "We love our partnership with the University of Louisville and jumped at the chance to help bring ALL of Lamar Jackson's games to the airwaves with our partners at ESPN Louisville.  Liquor Barn and Party Mart are proud to be a reason that fans won't miss a snap of Lamar this year," said Liquor Barn Chairman Jonathan Blue.
The first broadcast will be Sunday, September 8th against the Miami Dolphins at 1:00 with pre-game coverage beginning at 12:30.
93.9 The Ville is one of three locally owned stations by ESPN Louisville, including ESPN 680 AM and 105.7 FM.